Government
Feb 27, 2018
The United States Air Force recently awarded SAK Environmental a multi-year contract at Hanscom AFB in Bedford, MA to provide emergency and non-emergency environmental services in response to spills and other risks posed by hazardous materials that occur on both airside, landside, military, and civil flight operations.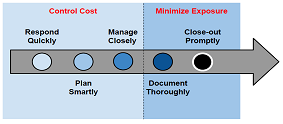 Hanscom AFB is home of the 66th Air Base Group and provides worldwide support for the Air Force Life Cycle Management Center. The men and women of the 66th Air Base Group secure, support and sustain more than 10,000 active duty, Reserve and National Guard military personnel and Department of Defense civilians, contractors who work and live at the base.
"SAK was selected from this competitive selection process based on our proven track record on emergency response work and cost effectiveness" says Stephen A. Sakakeeny, Principal at SAK. "We're privileged to support the US armed forces in this way".